My group at the office had a rather early Christmas Party last weekend and I was able to snag a 128 MB thumb drive as a gift (the limit on the amount on the exchange gift prevented the giver of the gift from giving me one with a larger capacity) . Anyway, since I don't usually store my files outside of my notebook, I decided to just create my own "mobile toolkit" on that thumb drive.

So, the first thing I did was to download John T. Haller's PortableApps Suite Base Edition to give me some leeway on what to install on the drive. Then with the Suite in place, I installed the following apps on the thumbdrive: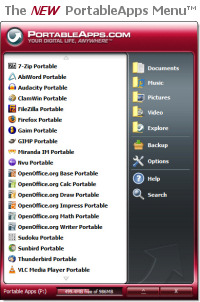 7-Zip Portable -- an open source file compressor decompressor
Angry IP Scanner -- an IP address scanner
ClamWin Portable -- an open source virus scanning utility
GIMP Portable -- the open source equivalent of Adobe Photoshop (only better)
HoverSnap -- a screen capture software
PIN -- a password manager
Portable Firefox -- best web browser bar none
Portable VLC -- open source media player
TrueCrypt -- open source encryption software extraordinaire
All the programs I have on my thumb drive are either freeware or free and open source (FOSS) and they allow me to work wherever I need to go. Most of them are available free at
PortableApps.com
How about my readers... I wonder what they have on their thumb drives?